A house is one of the major investments that an individual can make in a lifetime. It is an investment that can take years to plan, but it is quite rewarding if it is a success. Owning a nice house is not the end of your investment endeavours. You have to equip your house with the best furniture, beautify each room, as well as make sure you get the colour shades right.
Among the many rooms you may have in a house, your bedroom is one of the best spaces to invest extensively in. The master bedroom is a personal space that guarantees an oasis of comfort and relaxation. It is the best place in your house where you can comfortably sleep and wake up to a new and remarkable day. You should at all times keep your bedroom in the best condition.
The furniture and even the beddings you opt for should be comfortable and stand out as well. And when it comes to general decoration of your bedroom, it should speak volumes about your personality and your preferences. For your bedroom to stand out and even increase the value of your entire house, it is wise to go for calming bedroom colour schemes.
Designing Your Bedroom- Key Things to Know
Your bedroom can immensely help increase the value of your home. This is possible if you can figure out how you can effectively design your bedroom space. It does not matter how many bedrooms your house has, you have to make this room stand out. There is no exceptional way to make your bedroom stand out than choosing the best colour schemes that you think will satisfy your decoration preferences.
Colour is one of the most imperative aspects that you need to consider when you are planning the decoration choices of your bedroom and the house in general. Choosing the best colour schemes is not an easy issue that you can pursue in a single day. You have to plan and know what makes it easy to choose the best bedroom colours.
---
---
Colour schemes have been a topic of contention in many home remodelling and decoration forums. In many instances, colour psychology has exhibited that homeowners' thoughts and perception have been influenced by colour choices an individual opts for.
Unfortunately, many people fail in picking the right colour choice for their bedrooms because they don't know where to start. Others don't know the right shades designated for bedrooms and the conditions that they want to induce in this relaxation space.
Choosing warm bedroom colours may be a daunting task if you are undertaking this role for the first time. The good news is that if you are green to home interior remodelling and decoration, there are incredible tips to help you choose the best bedroom wall colours. Have a look;
It is not that easy to get bedroom hues right all the time. And so, you need to find a colour wheel that is made up of primary colours, secondary colours and tertiary colours. What you need to keep in mind is that this wheel comes with warm colours on one side and cool colours on the side of the spectrum.
You will be able to figure out which colours attract your emotions as well as grasp your attention at first glance. Colours that will please you will definitely be great for your bedroom.
Understand The Meaning Of The Colours
You have to get the meaning of the colours that you want to choose for your bedroom walls right. It is wise to go for colour designs that depict a soothing sense, peace, sense of balance and calm all the time.
If you are into warm colours, keep in mind that they equate to energy, action and enthusiasm. For instance, blue can be used to represent calm, yellow for friendship and joy, grey for desire and white for purity.
Know How To Blend The Colour
You cannot just pick a colour for your bedroom and assume everything will work as anticipated. Pick a colour hue that will blend well with other properties you want to include in the bedroom. Make sure the colour is easy to tone down and give your bedroom an appealing accent.
If you have a family, it is wise to involve each member in the selection of colour harmony in the house. Let the members involved choose relaxing bedroom colours that they feel will satisfy their needs as well as please them. Use the shared ideas to see what colour changes you can make and improve the appearance of your bedrooms.
On the other hand, colour choices vary from one person to another, and you will be forced to make a profound decision on the best bedroom wall colour choices. Make a blueprint of the best ideas and bring the right colour hues to your bedrooms.
Top Soothing Bedroom Wall Colours
If you are looking for a gateway to better good night sleep, then you need to choose calming or soothing bedroom wall colours. Selecting the best bedroom colours is not an easy undertaking. You have to be cautious in your endeavours, conduct meticulous research as well as consult wisely.
In most cases, the bedroom temperature is the core facet to pay much attention to while decorating your bedroom walls. You should also consider the size of the bedroom before you embark on the search for best wall colours. The colour type that you opt for should be readily available and enough to cover the entire bedroom wall.
With a well-prepared budget and robust knowledge, you will not miss out on the best colour designs for your bedroom wall. Here are the top 6 calming room colours that you will without a doubt choose and fall in love with. Have a look;

Blue photo created by mrsiraphol – www.freepik.com
Your home should be a source of contentment and comfort at all times. Blue is one colour hue that evokes a sense of peace and joy at home and should be your first choice when it comes to bedroom wall colours.
It creates a positive environment that you may be yearning for after a busy and long day at work. There are different blue shades that you can opt for to improve the look of your bedroom. You can opt for soft or pale blue hues that have an extremely soothing effect that can only be compared to sipping a glass of your favourite wine.
The calming effects of blue hues are great for homeowners who want to sleep more and enjoy every night. You can also try out navy blue shades on your bedroom walls and create a distinctive elegance in the bedroom. If you are a thoughtful homeowner, you can also opt for the dark blue and find a means to calm your mind and enjoy peaceful nights.
A Cool, Serene Green Bedroom Colour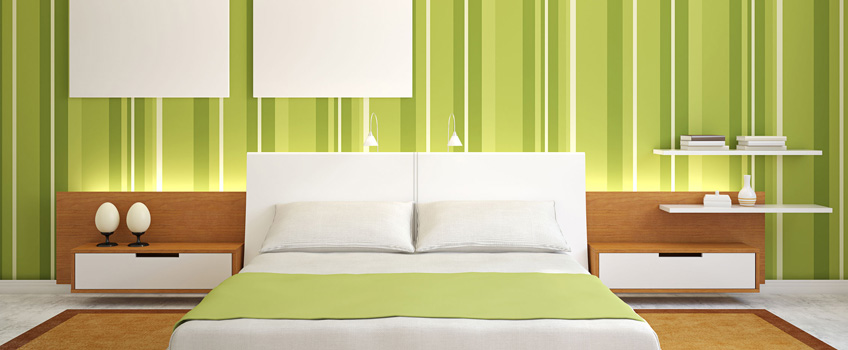 With every homeowner these days becoming environmentally conscious, green has been the colour shade for outdoors, but it is also amazing if used for interior décor. It brings with it cool and warm elements that are great for bedroom walls.
Green bedroom walls will bring feelings of contentment and serenity important for a relaxing mind. You can opt for sage green which presents homeowners with opportunities to match the walls with basic white and beige bedroom stuff.
Moss is a green hue excellent for people with sleeping disorders as it helps them fall asleep faster. You can also try out pea green, pale or lime green on your bedroom wall. You will love your new settings.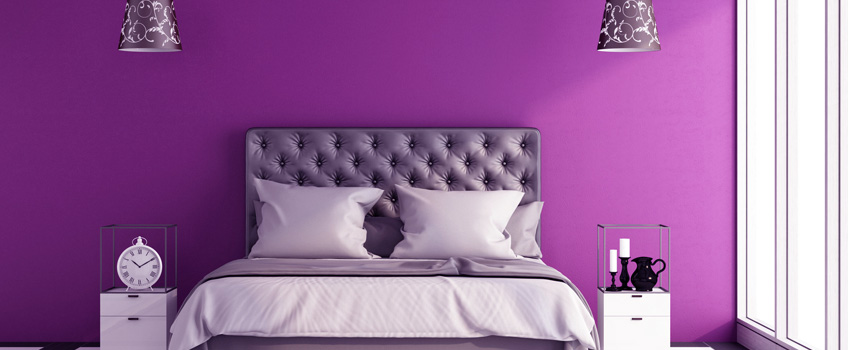 Purple hues will inspire you or anyone who visits your bedroom. It is a great colour that will also stimulate your brain activity. You can go for lavender and light purple shades that will improve the scent of your bedroom and make it look incredibly relaxing.
Violet and medium purples can also work miracles on any bedroom, so feel free to try them out. Purple hues offer a natural way to calm the body and mind. Royal purples create an elegant environment and if blended with satin beddings, you will easily make your bedroom a great haven.
Bright Yellow Room Colours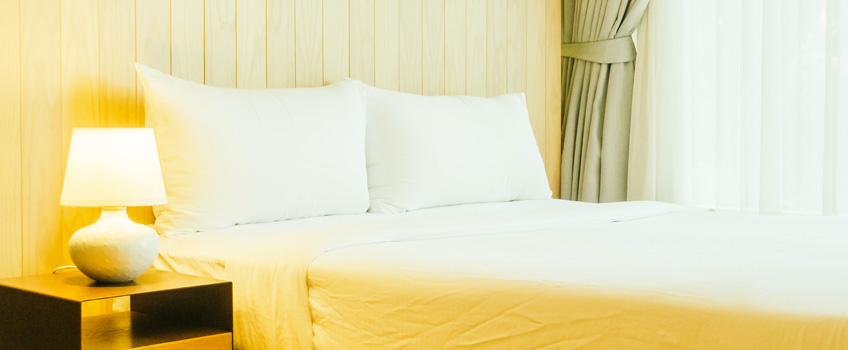 Yellow hues are stimulating and very cheerful. If properly remodelled into a bedroom, the shades will aid in mental relaxation. Yellow is also great for people who tend to wake up early and start the day off relaxed and motivated.
And if you suffer from depression, yellow shades can aid alleviate anxiety and stress. Mustard yellow is a great tone to go for as it is more soothing than any other colour hints you may have in mind.
A Chill Neutral Brown Colour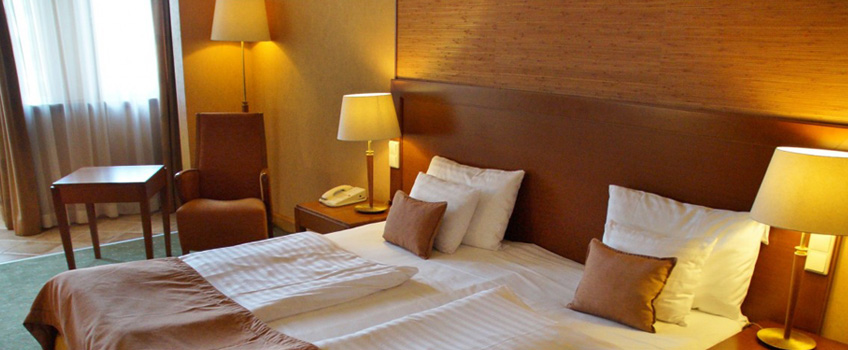 Shades of brown are excellent for any space in your house. They are great for your bedroom as they will create warm neutrality you need to relax. Such an ambience will mean that you will enjoy a peaceful sleep all night long. Some of the common earth tones for a bedroom wall include chocolate, beige, ostrich and taupe hues.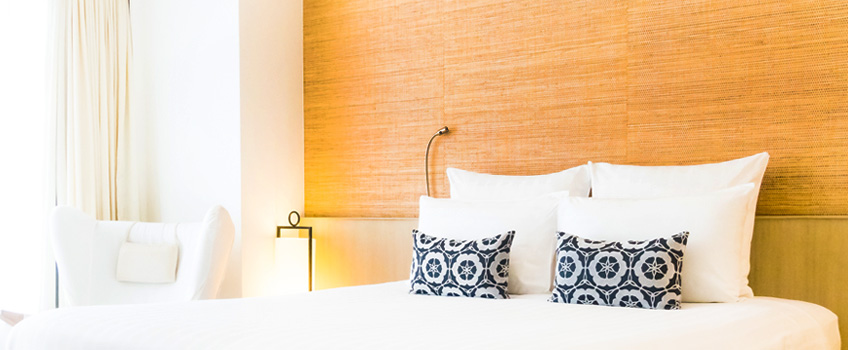 Home photo created by lifeforstock – www.freepik.com
There are exceptional advantages to choosing orange shades for a bedroom wall. Orange is known to help the body relax and help get a better night sleep. It is a warm colour shade that brings about enthusiasm and keeps homeowners energized.
The Bottom Line
When it comes to designing your house, you have the mandate to make it a successful project. Your bedroom is an important room that you should invest extensively in and get it right. You will have to consider the appropriate colour décor and it is wise to go for calming bedroom colours at all times.
Nevertheless, if you find it daunting to remodel your bedroom interior, Castle Point Construction, will offer a helping hand. They have a team of experts who are eager to offer you incredible bedroom décor tips and make your investment a success.
---
---